CATCH ALL Research Group Presents New Studies on ALL at ASH Congress
Scientists at the University Medical Center Schleswig-Holstein (UKSH), Kiel Campus, and the University Children's Hospital Magdeburg have presented new findings on the diagnosis and treatment of acute lymphoblastic leukemia (ALL) at the leading congress for hematology – the American Society of Hematology (ASH) Congress in New Orleans, USA, prompting lively discussions and positive reception by international experts in the field. The studies focus on a new diagnostic algorithm for B-cell precursor acute lymphoblastic leukemia (BCP-ALL) and the efficacy of IL7R-antibody-based immunotherapy in BCP-ALL and T-ALL.
B-cell precursor acute lymphoblastic leukemia (BCP-ALL) is the most common form of leukemia in children, but it also affects adults of all ages. The malignant alteration of precursor cells of white blood cells leads to a reduced function of the bone marrow and consequently to a progressive impaired hematopoiesis. Currently, modern therapies can achieve long-term survival of 90% in children – but only 50-60% in adults. BCP-ALL results from mostly acquired genomic aberrations, such as certain mutations or gene fusions which strongly influence the severity of the disease and, thus, the prognosis. BCP-ALL can be grouped into molecular subtypes based on these genomic aberrations and corresponding gene expression profiles. More than 20 different BCP-ALL disease subtypes are currently included in the classifications for hematologic malignancies (WHO-HAEM5 / International Consensus Classification) as distinct diagnostic entities. To reliably address this heterogeneity in clinical diagnostics, uniform diagnostic methods are needed to systematically identify the subtypes of individual BCP-ALL patients.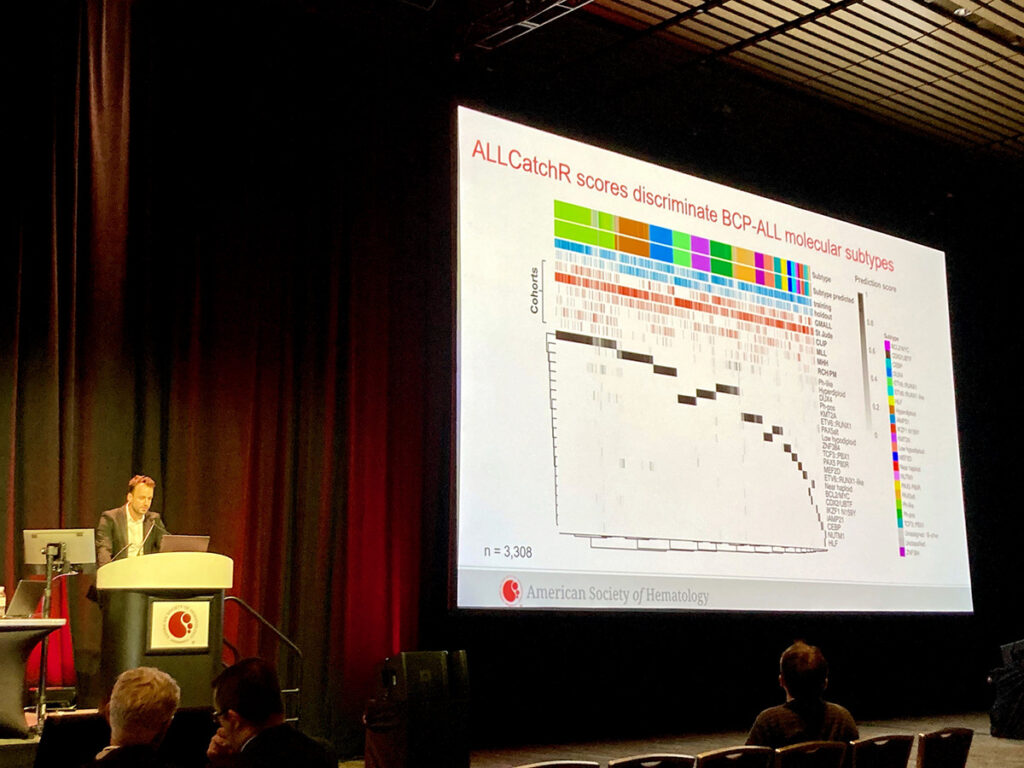 ALLCatchR – with machine learning to new diagnostic tools
As part of the CATCH ALL clinical research group, researchers led by Professor Claudia Baldus and Dr. Lorenz Bastian have developed the algorithm "ALLCatchR" which can identify 21 established molecular BCP-ALL subtypes using gene expression alone. Dr. Thomas Beder, bioinformatician in the Department of Internal Medicine II and first author, explains, "ALLCatchR is a program that classifies gene expression profiles for 21 established BCP-ALL molecular subtypes using machine learning in independently validated cohorts with over 95% accuracy. The algorithm is based on the largest BCP-ALL cohort in the world to date." For Lorenz Bastian, ALLCatchR can also make an important contribution to further research into BCP-ALL: "With the help of the algorithm, it is possible to gain detailed insights into the differentiation of the various B-cell developmental stages. This would allow us to better understand, in which stages certain driver mutations favor the development of leukemia." Claudia Baldus adds, "What is special about ALLCatchR is the cross-age approach, which we also follow in our CATCH ALL clinical research group. As a result, the algorithm provides a reliable basis for systematic diagnostic approaches for both, pediatric and adult BCP-ALL patients." In the future, the method could replace conventional cytogenetic and molecular biology methods, shortening the time to accurate diagnosis and more precise therapy to improve the long-term prognosis for patients.
IL7R antagonist shows efficacy in BCP-ALL and T-ALL
Today, treatment for ALL is mainly based on chemotherapy. However, it is essential to develop new immunotherapy targets to reduce therapy toxicity and to target relapsed/refractory (r/r) disease, particularly for T-ALL where immunotherapy options are limited. In a recent study, scientists led by CATCH ALL-associated scientist Dr. Lennart Lenk and Prof. Denis Schewe, Co-initiator of CATCH ALL, have presented their recent data on the Interleukin-7-receptor (IL7R) antagonist OSE-127 showing that it efficiently blocks the in vivo engraftment of both BCP-ALL and T-ALL.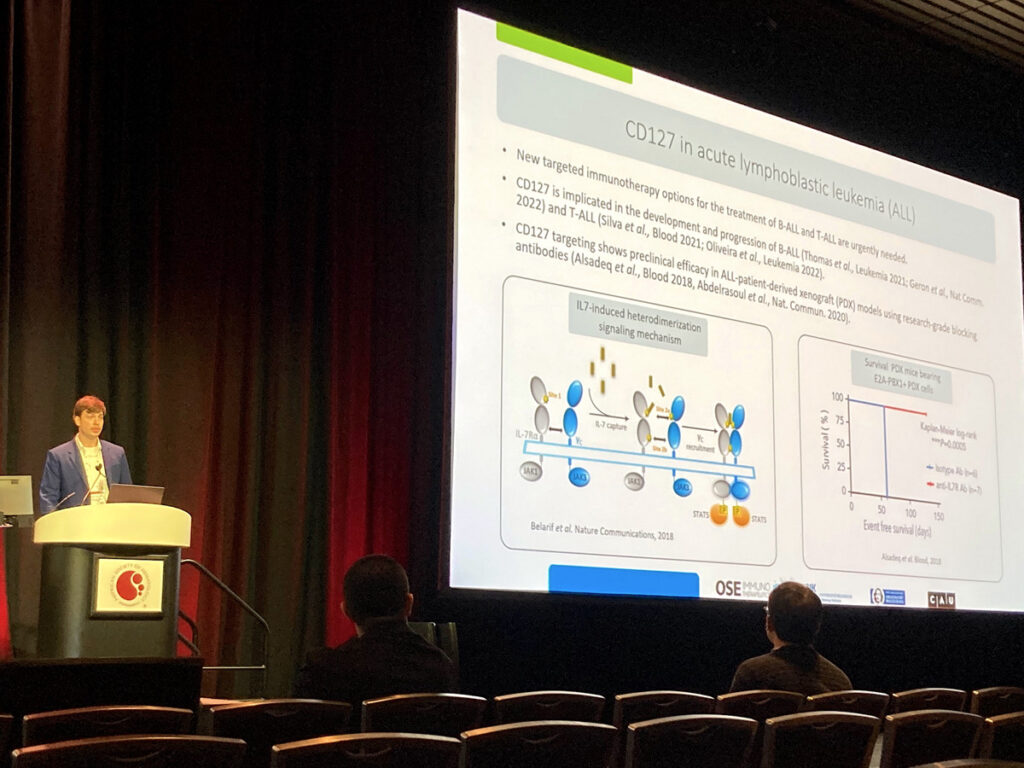 OSE-127, an IL7Rα-chain (CD127)-targeting antibody, developed by OSE Immunotherapeutics, showed a good safety profile in healthy volunteers and is currently being tested in Phase 2 trials for autoimmune-diseases. The first author Lennart Lenk, winner of one of the prestigious ASH Abstract Achievement Awards, explains: "We had previously shown that CD127 is associated with adverse outcome in BCP-ALL and can be targeted with an IL7R-blocking antibody. In our new study, conceived in collaboration with OSE Immunotherapeutics, we show that OSE-127 is highly effective in pediatric and adult BCP-ALL and T-ALL models." In the preclinical setup, treatment with OSE-127 resulted in an in vivo reduction of leukemic engraftment in 95% of tested patient derived xenograft (PDX) samples and a significant survival prolongation of OSE-127 treated animals. In a close collaboration with scientists from Kiel, Nantes, Zürich and Magdeburg, the authors identified a dual mode of action for OSE-127 that includes inducing macrophage-mediated antibody-dependent cellular phagocytosis and blockade of the IL7R signaling pathway. Denis Schewe, now head of the Head of University Children's Hospital Magdeburg, concludes: "OSE-127 could be a promising immunotherapy for patients with CD127+ ALL, regardless of the presence of IL7R pathway alterations and represent a therapy option for relapsed and refractory ALL patients."
About CATCH ALL
ALLCatchR is a result of the CATCH ALL Clinical Research Group, which has been funded by the DFG with around five million Euros since the beginning of January 2022. Teams from research and clinic are working together to bring promising therapeutic approaches into clinical application. "The new findings can further contribute to optimizing oncological precision diagnostics and therapy of acute lymphoblastic leukemia," explains Professor Claudia Baldus, spokesperson of CATCH ALL. She emphasizes, "In general, we would like to improve the curing chances for all patients across age."
Original publication
Beder T, Hansen B, Hartmann A, Zimmermann J, Amelunxen E, Wolgast N, Walter W, Zaliova M, Antić Ž, Chouvarine P, Bartsch L, Barz M, Bultmann M, Horns J, Bendig S, Kässens J, Kaleta C, Cario G, Schrappe M, Neumann M, Gökbuget N, Bergmann A, Trka J, Haferlach C, Brüggemann M, Baldus C, Bastian L (2023): The gene expression classifier ALLCatchR identifies B-precursor ALL subtypes and underlying developmental trajectories across age. bioRxiv 2023.02.01.526553; doi: https://doi.org/10.1101/2023.02.01.526553
Text: Dr. Claudia Taubenheim
---
Additional Details
Contacts: